DATE:

AUTHOR:

Dimensions product team
Landscape & Discovery, Version 0.8
DATE:
AUTHOR: Dimensions product team
Summary
Based on the feedback and internal analysis on the structure (reports and underpinning 'tabs') and performance (load time) of the L&D application, the need to split several dashboards was identified. Both the split of some of the very data intense areas of the dashboard and the timely introduction of an improved navigation panel to the left allowed us to introduce a number of improvements in the area of reports by introducing new ones and restructuring existing ones. The result improves the usability substantially.

In addition, some desired visualizations were added as described below.
We have also added an in-app basic user guide.
KEY CHANGES

Overall Application Structure
New navigation structure

Simplified accordion menu allows user to click directly through to the dashboard page they want

With this approach it was possible to reformat report into smaller specialized pages, in addition to being more focused smaller pages should load faster

Order of the report changes

Key players reports, which look across document types are now at the top of the application, to provide a better overview of the top Researchers, Organizations and countries across all document types

Publications: Impact has been moved to the main publications report, to more clearly show the relationship between the result set publications and their impact on applied research and policy decisions.


Disabling links to empty reports

If a result set does not contain one of main document types (ex. Clinical Trials) then the pages within the application that require this data will appear grey and not have a link


Addition of in-app User Guide


New visual highlights

Addition of cross document type FoR and Concept visualisations to At a Glance





Addition of RCDC analysis on all document types Research Categories page

Mesh term -> RCDC hierarchy circles added





Additional collaboration VosViewers for grants and publications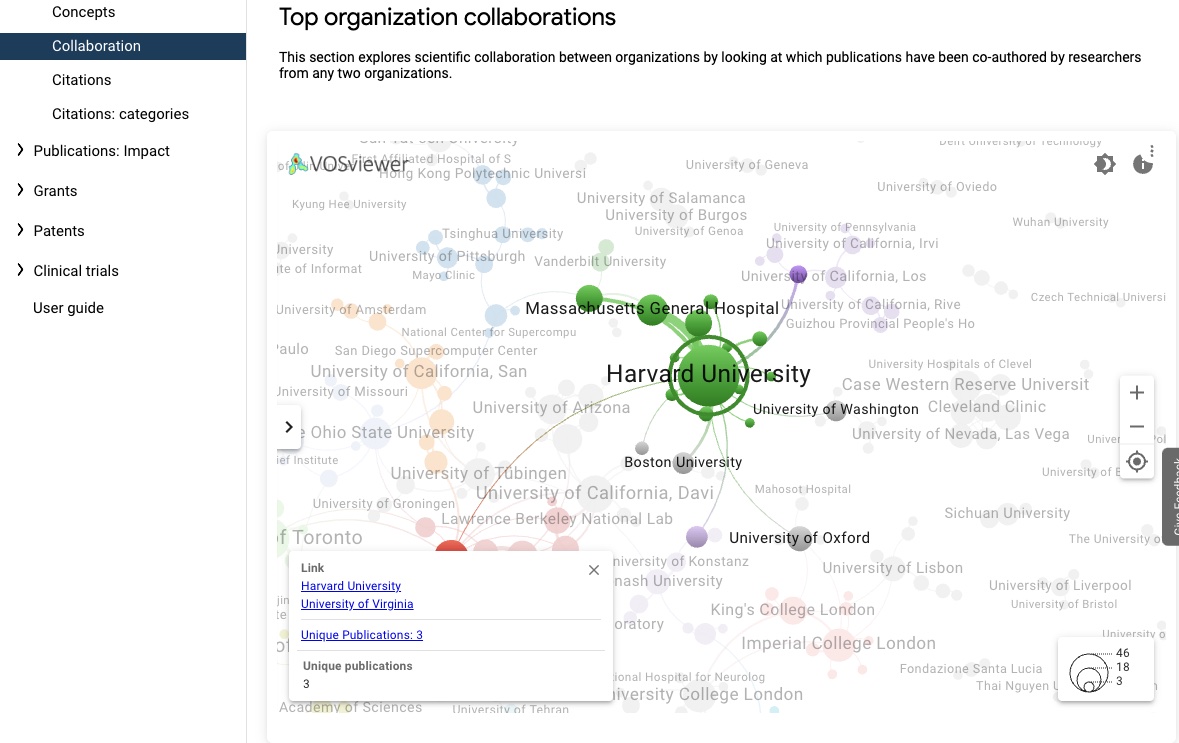 General Improvements
Performance improvements

Clearer drilldowns

Additional url links (to Dimensions Analytics webapp, etc.)